At Intersoft we have always had a focus on data quality with PPM solutions – you cannot expect good reports or valuable business intelligence from your data, if the quality of the input data is not good.  As the level of project planning and control improves, the ability to join up the information becomes more and more valuable.  But this is dependent on good resource information too.  And as resource management has been a growing area in recent times, we have seen the need for better resource data quality too. As for the quality of the base data that you work with for your resources, we have a recommendation to make in terms of making sure that your resources are unique.
With Project Online especially, you need to make sure that none of your resources or users have the same display name.  This is the name that appears in your Office 365 or AD account.
If you have two resources with the same display name, then this can cause problems in terms of planning, reporting and management, as well as general confusion as to which "John Smith" are you trying to work with on your project!
Our first tip, is to look at all of your users and resources.  To do this, you need to go to both the Resource Centre, and to Server Settings and Manage Users.  The reason you need to check both, is that you can have resources and generic resources that cannot log on (do not have a logon account) which might be duplicated, and also users that are not resources!  Confusing, I agree.
Anyway here is how you check both:
Checking the Resource Center.
First of all, make sure that you are logged on as a PWA Administrator, and are able to see all resources.  Next, you need to go to the Resource Center and choose a view that does not filter out any resources, and also make sure that you do not have any filters applied.  Once you have done that, you can then export your resources to Excel using the Export to Excel button:

You will then be prompted to open the file:

, select Open.
If the file opens in a protected view, you will need to Enable Editing:
Enable auto-filters for the columns by selecting row 1, and then Filter, Auto-filter:
Then you can select the Resource Name column:
And then Conditional Formatting, Highlight Cells Rules, Duplicate Values:
You can accept the default colour options.
If there are any duplicates they will be highlighted with different colours.
To see if you have any, select the drop down filter on the Resource Name column and if its available, choose Filter by cell colour: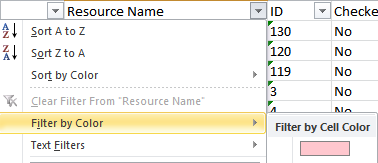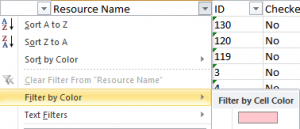 In this example I have 3 duplicates: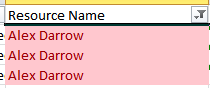 In this case I have 3 Alex Darrows! One is a generic resource, one is a normal "pure resource" that cannot log on, and another is a "resource and user" that can log on.  As you can see it can be quite confusing.
Make a note of any duplicates and continue….
Now its time to look at the Users:
If you go to Server Settings, Manage Users, there is also a button for exporting the user list to Excel.

This again much like the resource centre will give you a list of all of the users.  We can apply the same technique with the excel data to look for duplicates using the conditional formatting:



Here you can see that we have another Alex Darrow, that was not in the resource centre!  This second user is just someone with logon rights such as an administrator or executive might be.
So what do we need to do about this problem?
Renaming the Resources.
For the generic resource it is quite simple, you just need to edit the name of the generic resource to something that is not already in use
For the pure resource (no account, but can be assigned to tasks), again, you just need to edit the name of the generic resource to something that is not already in use
For the resources that can logon, and pure users, the task is a bit more complex.  It's a sequence of events from the source through to Project Online.
If you have Active Directory Synchronised to Office 365, through to Project Online, then you need to edit the account in the on premise AD.  If you just have Office 365 accounts, then you need to edit the account in Office 365 Administration Center.  Once the account display name has been made unique, you then need to wait for SharePoint to synchronise.  Usually this happens about twice a day, so you may have to wait until tomorrow to complete the task.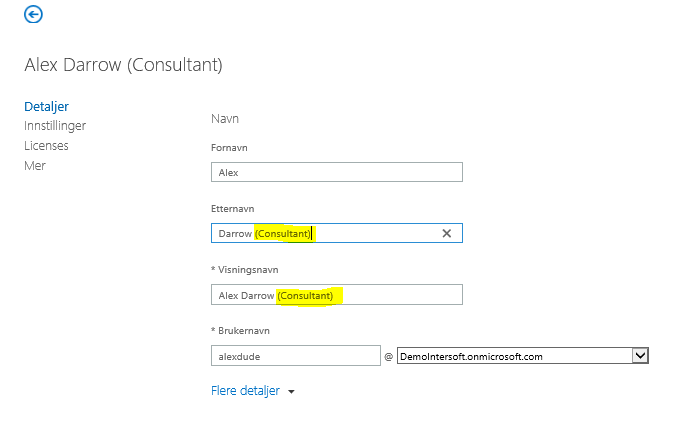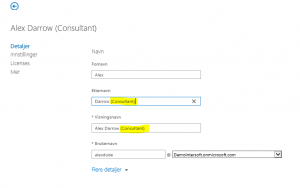 Once the SharePoint synchronisation has taken palace, you can then edit the resource in Project Online (PWA, Server Settings, Manage Users), and simply let Project Online edit the duplicate that you are trying to rename:

Click on the name and press save!
Now all of your resources should be unique.  To make sure, just repeat the steps taken earlier to find the duplicates in Excel.
About the Author