Today Microsoft are launching new apps in Apple and Office Store; Project Portfolio dashboard. These dashboards come preconfigured with visual reports for executives, portfolio managers, PMOs and project managers. The original Microsoft blog article on this subject was posted last night. You will be able to read the complete article here.
What is a Project Portfolio Dashboard-app?
The dashboard app is a set of ready built, preconfigured dashboards created by collating reports containing data from Project Online. If you want to read more about what you can do with a dashboard, you will find more information here. It is possible to take this portfolio dashboard and customize it for your organisation. You can choose between a collection of reports to create a dashboard from and it is also possbile to filter the reports. For a simple description on how to customize the dashboard, click here.
Project Portfolio Dashboard for iPad
The iPad app give access to portfolio reports on your own iPad, as soon as you connect the app to a Project Online environment. If you have the Office app as well, will you be able to visualise data across all platforms.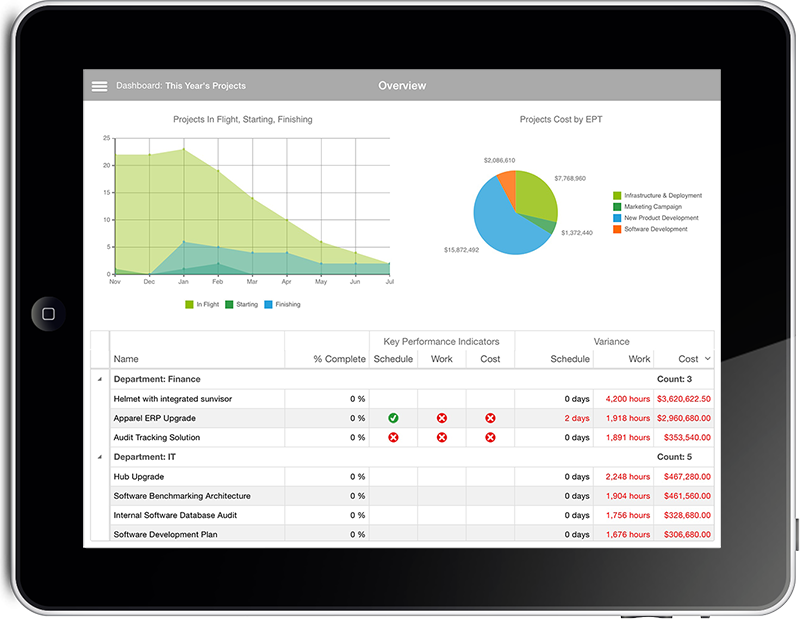 If you would like to know more about the Project Portfolio Dashboard for iPad, you can find more information here.
Do you want these App's?
You will find the Microsoft app here and the iPad app here. And if you have any issues, we will help as best we can.
About the Author