Last week, at MS Ignite, Microsoft revealed a lot of exciting new functionality that will be coming to the project management tools in the Microsoft portfolio.
The new functionality will all be founded on the Microsoft Project team's clear vision:
Below we have created a high level overview of the changes that are coming, but we are more than happy to discuss them with you directly, so please contact us.
Future
So what does that mean for the future of the tools?
Microsoft want project teams to be able to use the application of their choice to manage their projects, whether this is Planner, Project Online, Azure boards or another application. They understand that different types of projects, of different complexities, will require different tools. More and more work is performed as projects within organisations, so more people will have to use project management tools.
New architecture
This gave the Project group a big challenge, one they saw that could not be solved by just adding even more functionality on top of Project Online. They sat down to rethink the platform of PPM, and have started to build up a new architecture, based on the Common Data Service for Apps (CDS), as shown below.

The product team is in the process of creating a fully-fledged project and portfolio management solution based on the new platform, and they are taking an agile approach, releasing small bits of functionality at a time, and connecting them to Project Online.
It is important that intuitive tools are available. At the same time, it is important that the professional project managers have all the functionality they need. And management has to be able to see the total picture across all projects. This is what the new architecture must support.
All the information in the new Project architecture will be stored in the Common Data Service for Apps. This is the same platform that is used for Dynamics 365. On top of this, the Power platform (Flow, Power Apps and Power BI) will be used to support business processes, user interface and reporting needs.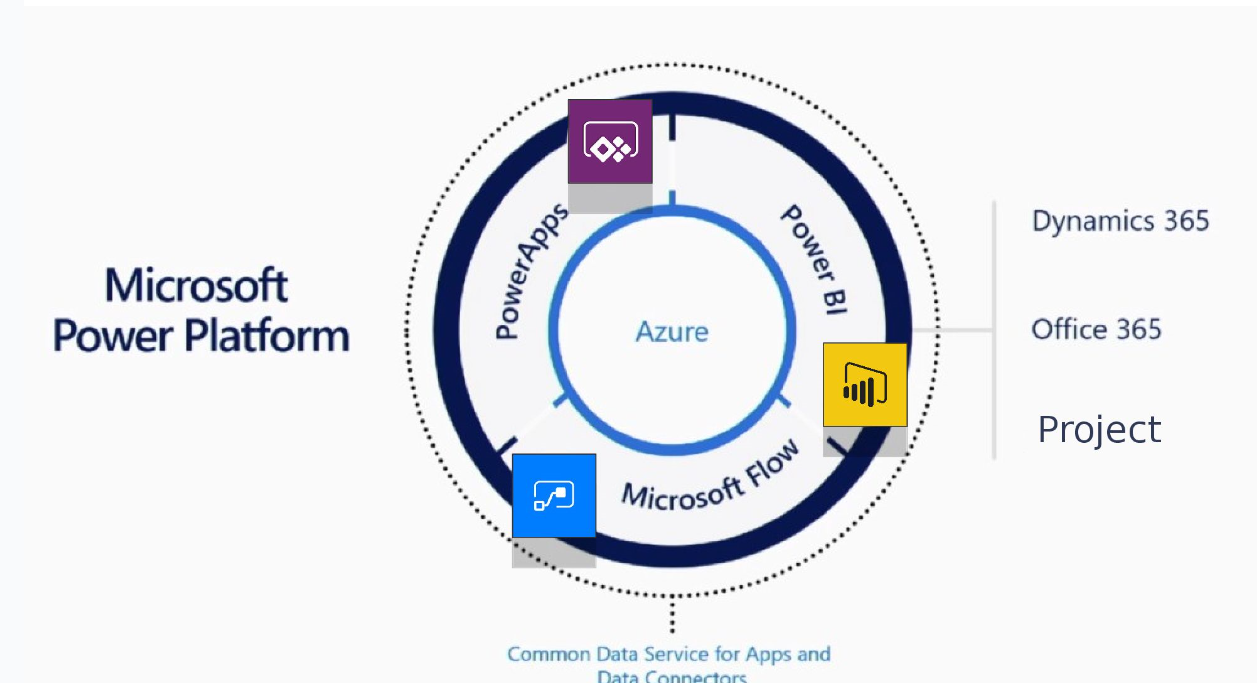 Project Online and Dynamics 365
This new common platform means that Project and Dynamics 365 will be better integrated going forward, and we can utilize the best from both worlds.
Todays Project Online has a very powerful scheduling engine, which is being rewritten for the new common platform. Project Online also includes portfolio management, progress reporting, collaboration, resource management and more. In addition to Project Online, you already today have some project functionality available in Dynamics 365, in the Project Service Automation module. This functionality will fit nicely into the new Project solution.
The Roadmap going forward
With the new architecture in place, the Project team have started creating new functionality.
Project Home
The first one has already been rolled out; Project Home. This is a hub where you can see all projects you have been working on lately. At current you will see all "Project Online projects", even if they are from different Project Online instances. In the future, this start page can also include projects from Azure Boards, Planner etc., as shown in the visual below.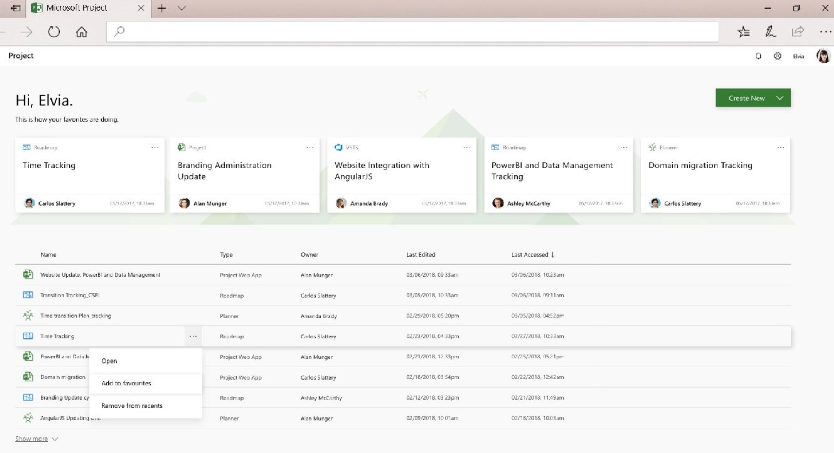 Roadmaps
Next up on the roadmap is Roadmaps (sorry, just had to write this in a sentence). This is a portfolio overview giving management control of the entire project portfolio, with important information. Again, to start with, this will contain information from Project Online and probably Azure Boards. But this dashboard will be extended to show other project management tools, in the same way as Project Home.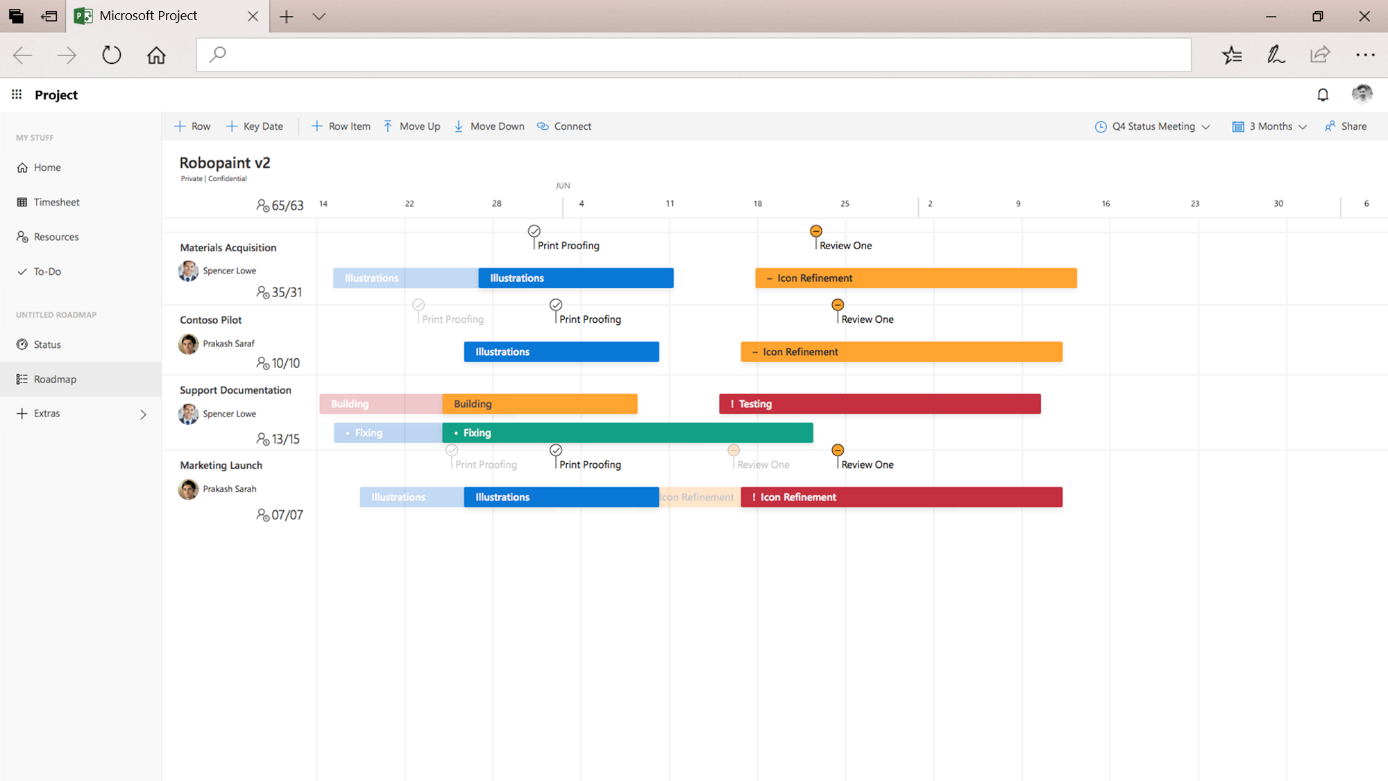 Modern Project
The two releases described above are good ways of helping the project members and management to navigate their projects.
The next item on the Project teams agenda is much bigger, a completely redesigned web-based project planning experience. The timing of when this will be released has not been communicated, but what has been said is that there will be small, controlled releases, adding more and more functionality over time. Below is an early mock-up of the user interface, but this might change before the launch.
What about Project Online?
We know that many of you will wonder what this means for your application and your investment in todays configuration. The way we see it, this is all good news! Project Online is a mature platform that will be supported and maintained for the foreseeable future, and the new Project Home and Roadmaps will give you new, added functionality.
At the same time, the Project team is showing a commitment to futureproofing the tools, being innovative and adapting to how less mature project organisations work.
The Project Online licenses will include both Project Online and the new functionality that emerges, so an organisation using Project Online for larger, more complex projects, can try out the new functionality for smaller initiatives. When the Modern Project has evolved enough to support the organisations need, the projects can be migrated. The timing for this migration will depend on the functionality needed by your organisation.
There is still no indication of a time frame for when the new solution will measure up to todays Project Online, and this will be subject to value judgement by each one of you. In Intersoft's opinion, and based on the agile approach that Microsoft is following, we cannot see the new solution being able to fully support everyone for the next couple of years. But there is an alternative, you can start small and build as the platform grows. Also, it is important to mention that Microsoft has promised to pay a lot more attention to the functionality feedback from the users, so make sure to register your needs for the solution on User Voice.
And what if I'm starting now?
For organisations looking into implementing a project management tool in the near future, we would definitely recommend you to choose Project Online. It is a mature, fully fledged PPM tool with project, portfolio and resource management capabilities, in addition to collaboration. All work that you do adapting the tool and the specific processes can be utilised going forward, and you will enjoy more functionality coming to your platform, with the same licenses.
If you want to know more about Project Online and what is coming next, please contact us directly. And keep following this blog, as there will be more in-depth articles coming on Roadmap, Power Apps, Flow and more in the near future.
You will find the official information from the Project team following the links below:
About the Author